As my regular readers know, we are actively house hunting right now. And while it would be awesome to win the lottery and buy the turnkey home of our dreams, the reality is that we'll likely end up getting something that needs work. Don't get me wrong - I love a good DIY project, and there is genuinely something incredible about getting to design a room in a way that truly matches your style and tastes. But remodeling can be expensive. I've also realized that the main room that tends to need the most work in the majority of homes we're viewing is the kitchen, and redoing a kitchen can
really
add up. Thankfully, I was able to team up with
Lowes
for some budget-friendly kitchen inspiration and come up with five
gorgeous kitchen looks
that are actually affordable. Each of these looks focuses on a handful of products from 5 key categories - sinks, backsplashes, cabinets, counters, and flooring - that can each make a massive difference in the overall look of the space without breaking the bank.
(You can actually shop these looks right from the images too! Just hover over an image, and click on the tag/number icons to view specific items.)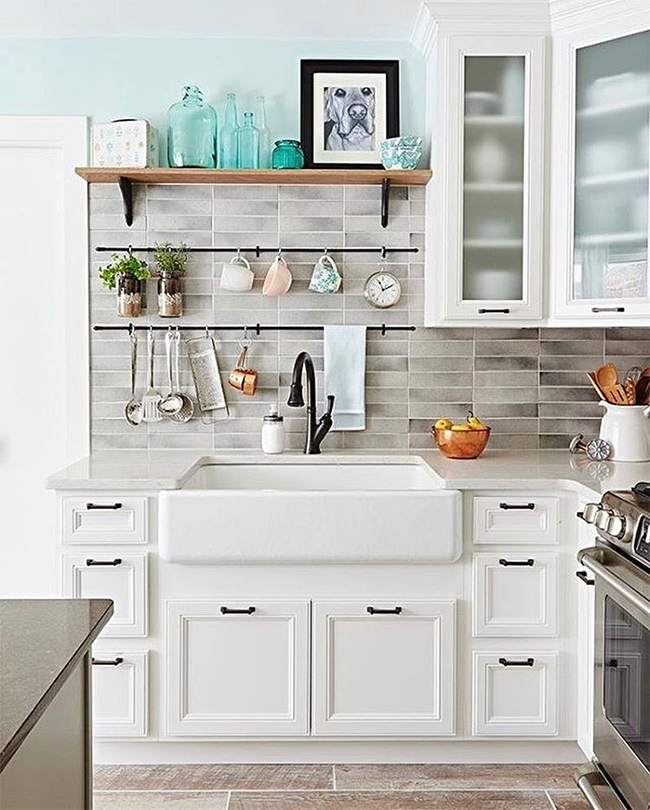 1. Modern Farmhouse:
I am a huge fan of spaces that combine both modern and rustic touches. The combination of a white farmhouse sink with a few other key items (like a bronze faucet, and cabinets with bronze pulls and a couple coats of fresh white paint) can instantly transform a dated kitchen into a space that is both primitive and elegant. And by changing out just a few of these elements, you can create the transformation without spending a ton of cash.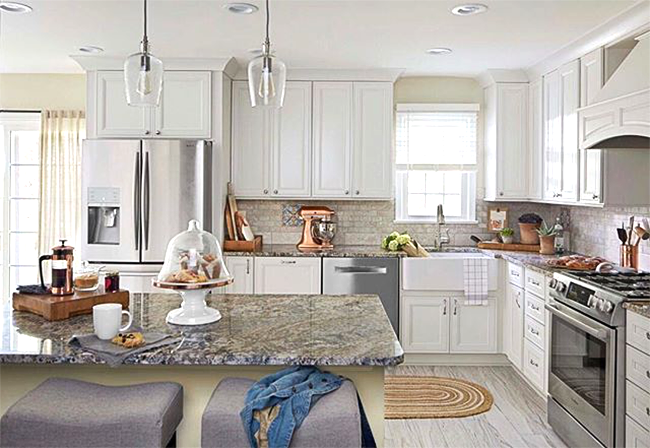 2. Bright and Open:
A lot of the kitchens we've seen have been dark or closed off, and we've wondered how we can make small changes to brighten and open that kind of space without spending a bunch of money to tear down walls or add windows. Adding white and light neutral elements like a pale floor and wall tiles, a white sink, and white cabinets can dramatically brighten a drab kitchen and make small spaces seem larger.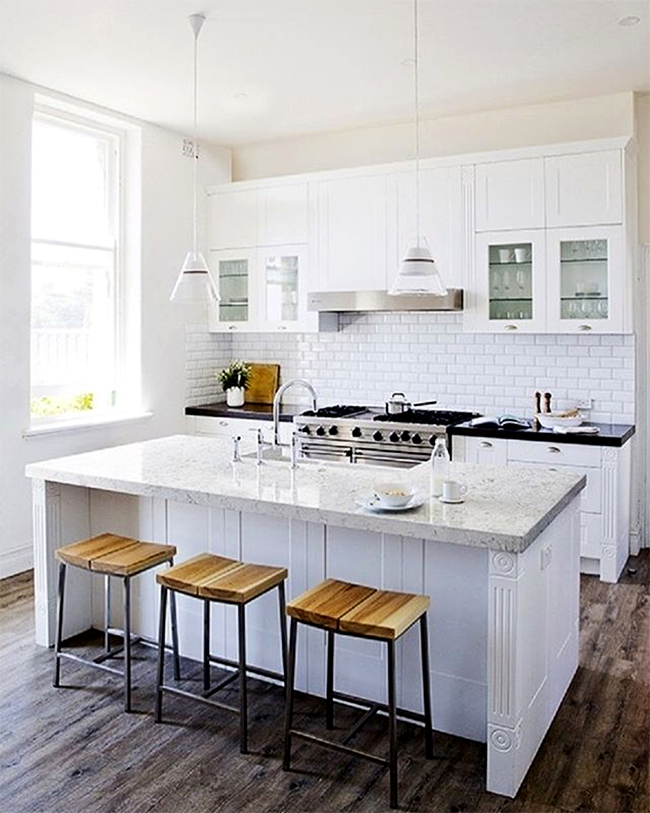 3. Sleek and Simple:
While I'm admittedly disorganized by nature and often surrounded by clutter, I feel most comfortable in simple spaces design wise. And I
love
minimalist style kitchens. Some can feel boring though, which is why I really like the addition of sleek elements like in the space above. Some affordable white subway tiles for the backsplash and a light colored quartz countertop (I love how they just did it on the island here) create a nice shine without being gaudy. And you've probably figured out by now that I'm a big fan of giving cabinets a coat of fresh white paint - it's a cost-effective and easy way to give a kitchen a makeover.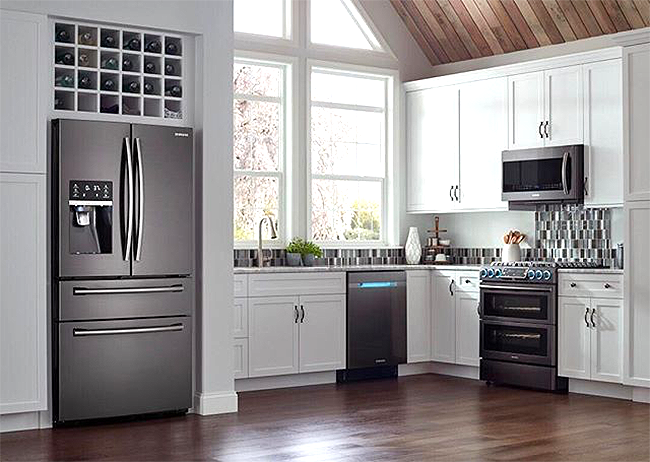 4. Grey and White:
I feel like when it comes to kitchens, you just can't go wrong with this color combination. And it looks so great paired with a natural wood floor! Especially when you already have stainless appliances, the addition of white painted cabinets (hey, I know what I like) with stainless pulls and a fun tile backsplash in grays and white is an easy, affordable way to streamline the look. Adding a pretty stainless faucet is another super simple way to add to the aesthetic.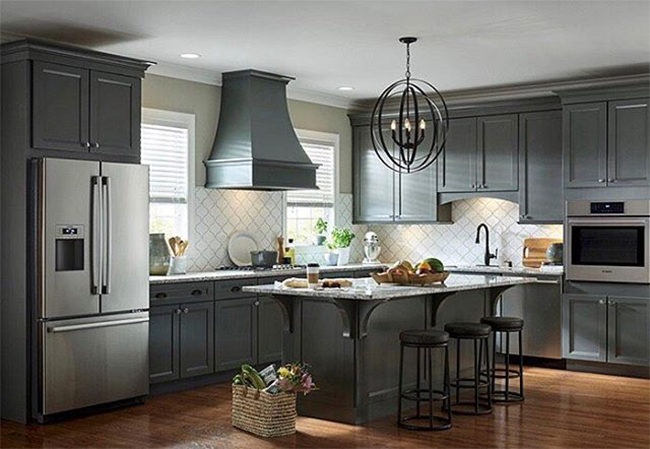 5. Chic and Sophisticated:
This final look is outside of my usual style comfort zone, but I absolutely love it. It's easier than you think it afford a sophisticated modern kitchen style like this. And look, the cabinets aren't white! Actually, adding grey paint to cabinets is very on trend right now, and it's a budget friendly way to give your kitchen an incredibly chic touch. Putting in a beautiful granite countertop is another way to add elegant style to your space, and it can really help make a dated kitchen look brand new.
Knowing that it's possible for us to remodel our future kitchen to be as beautiful as these spaces has genuinely replaced my anxiety with excitement. Even if we start with simple things, like painting cabinets or updating the backsplash or faucet, substantial visual improvements can be made - and that leaves me feeling inspired. It's also really great to know that if I need help,
Lowe's project specialists
can assist in both the design and budget planning. Lowes also has an awesome up to 40% off
kitchen and bath event deal
going on right now that runs through March 23. You can't beat that.
Have any of your remodeled your kitchens lately? Which look here is your favorite?
This sponsored post is in partnership with Lowes. Thank you for supporting the brands that help make Bubby and Bean possible.
ALSO FIND US HERE:
INSTAGRAM
//
FACEBOOK
//
TWITTER
//
PINTEREST
//
BLOGLOVIN'