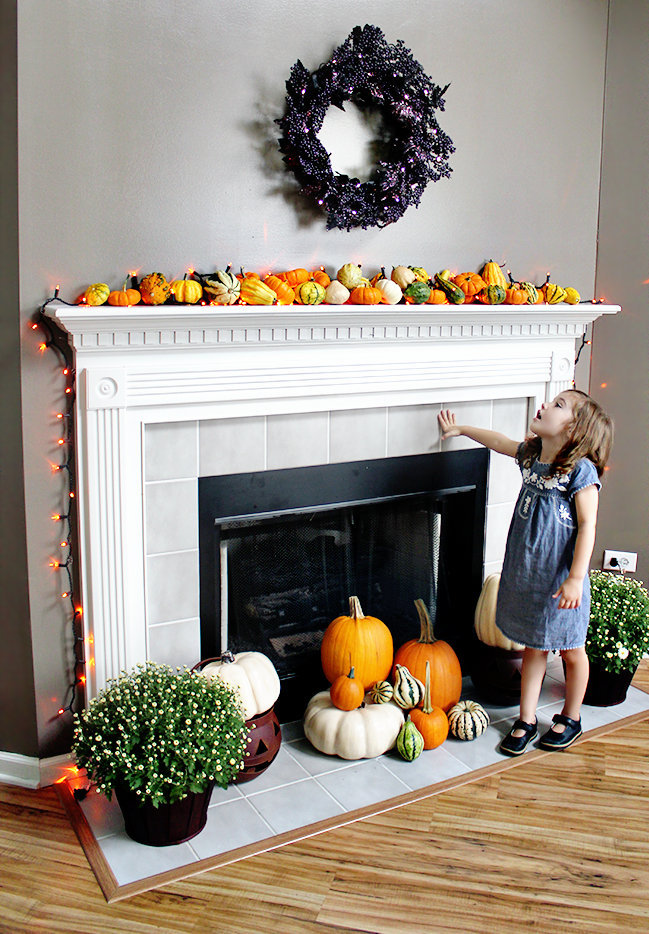 This post was sponsored by Lowe's as part of an Influencer Activation for Influence Central and all opinions expressed in my post are my own.
I've always loved Halloween, but unlike the holiday season, I don't usually do a lot of decorating for it. This isn't because I don't want to decorate (I mean seriously, there is little I love more than decorating for holidays); it's because usually October 28th or 29th rolls around and I realize that the box of Halloween decorations (that I've owned since I was about 8) is still sitting at the top of the basement stairs where I set it down back on October 1st. This year, I decided that part of the reason for my lack of motivation has been the fact that I'm just not inspired by, you know, the half burned out plastic pumpkin lights and chipped ceramic ghost and matted cotton spider webs inside that box, and that it was time to say goodbye to all of that and start fresh. I was going to head over to
Lowes
, stock up on new
Halloween decor
, and make my house festive. And I was going to start with the area we see the most - the mantel/fireplace area in our living room. (
PSSST!
Hover over any of the images of our Halloween decorated fireplace in this post and click on the tags to directly shop the products!)
Before: Our super boring, so not festive mantel and fireplace.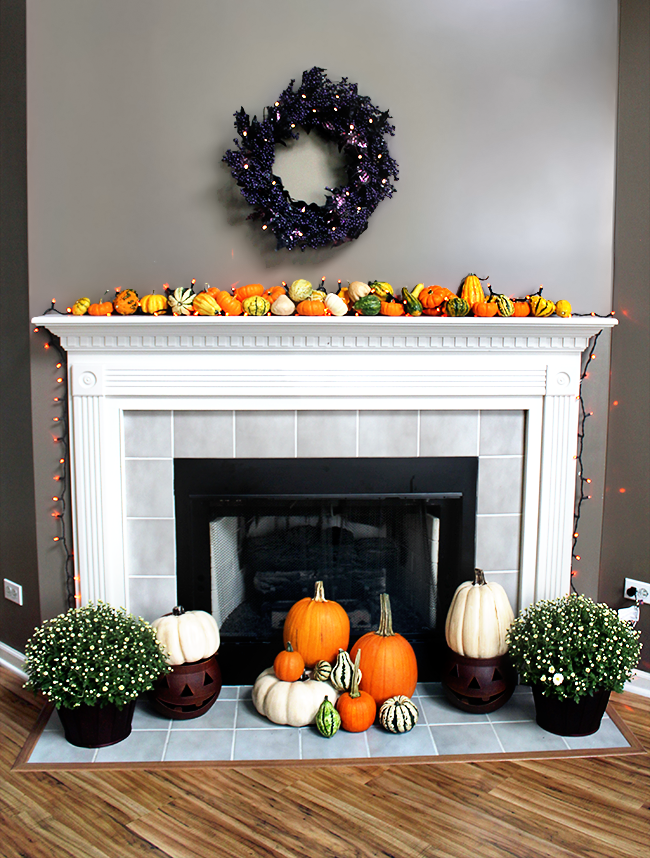 After: Our super spooky, fall-tastic, oh-so-festive mantel and fireplace.
Essley was, of course, thrilled with the idea of going to get Halloween decorations, so she came along to Lowe's with me as my personal Halloween shopping partner. My favorite thing to decorate with during this time of year (or any time of year) is flowers. So we headed into the nursery area first and picked up two sets of
white mums in pretty planters
. Essley spotted the
pumpkins
right away, so we grabbed a couple of them, along with several sets of
mini gourds
and
mini pumpkins
(and at $3.98 per 5 pack, I didn't hold back; gotta love how Lowes offers such great values on harvest and Halloween decor!). Back inside I saw the prettiest white craft pumpkins (white pumpkins are my Halloween decor jam), and picked three in different sizes (
12.2 inch
,
7.48 inch
, and
7.28 inch
). I also noticed the cutest rustic
Jack-O-Lantern greeters
, so we grabbed two of those of well. I tend to prefer simple, neutral decor in general, so I was good at this point, but my shopping partner had other ideas. And when your three and a half year old puts her hand on her hips and says, "mommy, this stuff is really pretty, but the house is gonna need some spooky spirit," you instantly realize the value of compromise when it means a joyous child on a holiday, and you amp up your houses's spooky spirit already. Essley fell in love with an equal parts creepy and pretty purple prelit berry and sparkly leaf
Halloween wreath
and a set of
Halloween LED string lights
that changed color from purple to orange that she described as "scary cool." So in the cart they went as well. I'm not sure who was more excited to get home and get this stuff set up.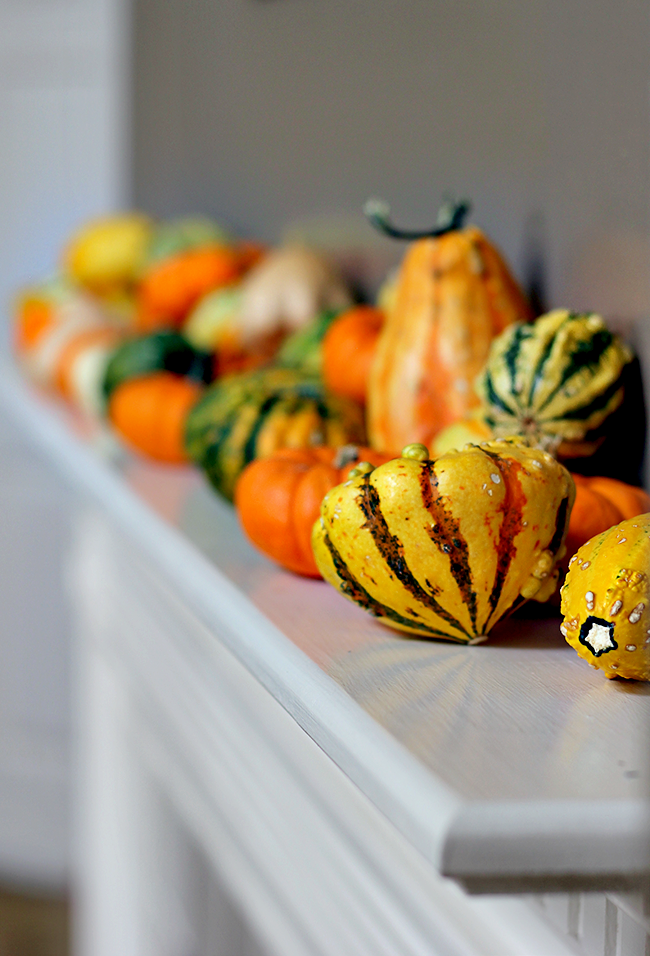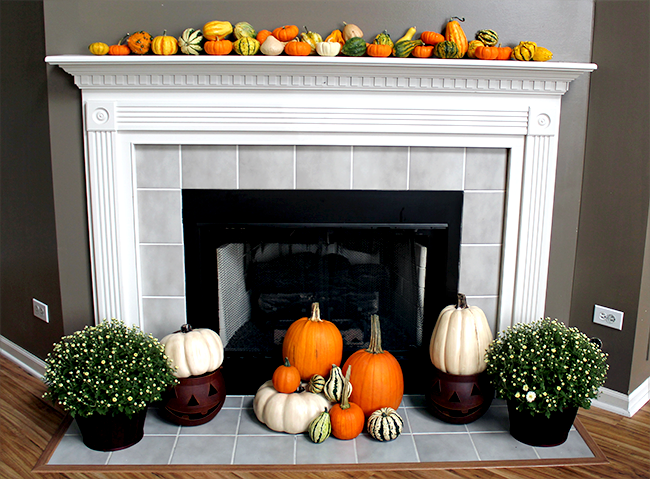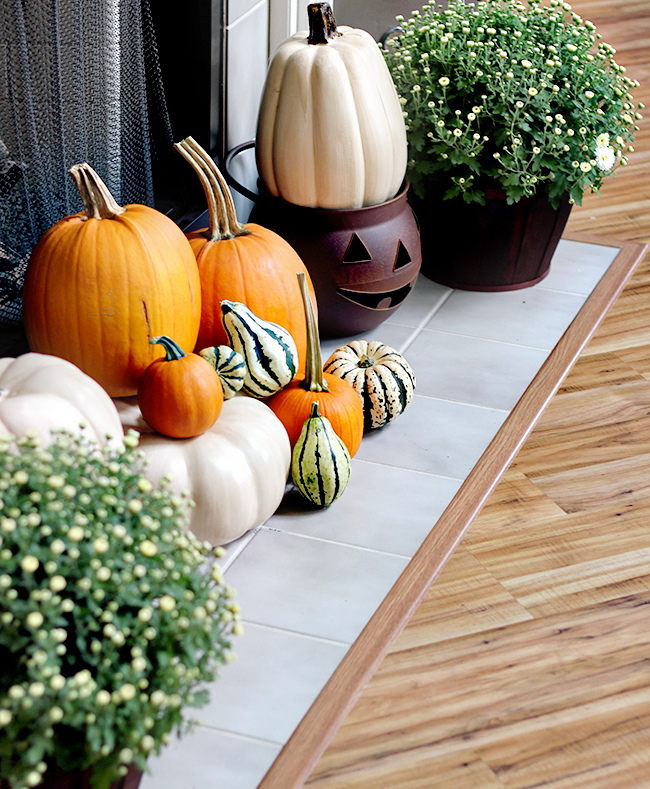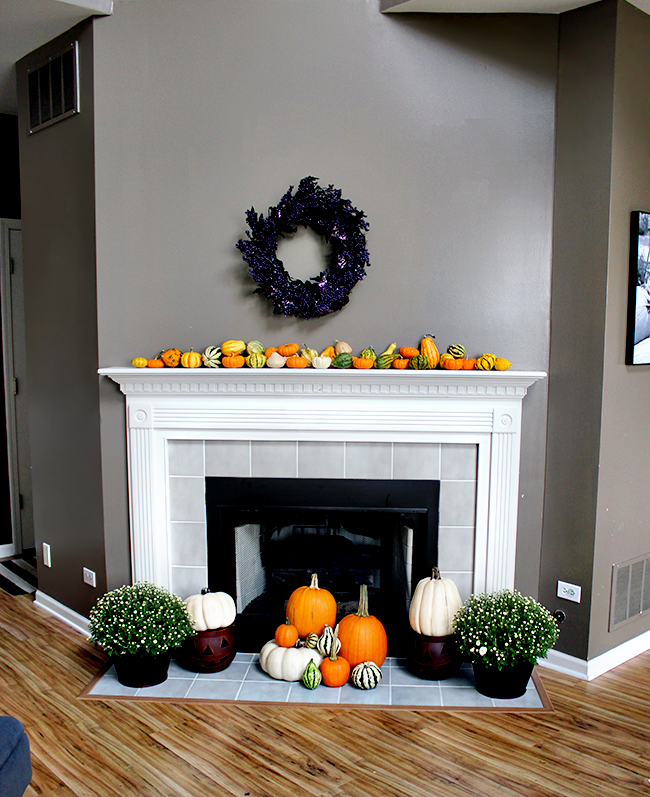 We had so much fun getting into the Halloween spirit while were decorating (complete with Halloween movies and apple cider), and things came together really easily. One of the first things I do when arranging decor on a mantel is to focus on simple layers. I try to incorporate objects of different sizes and shapes that are tied together either by color or texture. The
mixed gourds
and
mini pumpkins
were perfect for this, so I started there. Having some sort of symmetry on either side of a fireplace frames nicely and ties the space together well, so I positioned the
mums
accordingly to accomplish this. Then I played around with layering the
pumpkins
and white
craft pumpkins
, and arranging the
jack-o-lantern greeters
. I was actually really happy with how things looked at this point - simple, neutral, and natural. But Essley was right - we needed some spooky spirit. So we hung the
lights
along the mantel, and hung the wreath. And then, of course, we turned them on. One of my biggest tips for holiday decorating, especially when you have kids, is to create a nice balance of beautiful and fun. I'd say that thanks to
Lowes
, we did a pretty great job of accomplishing this. As Essley told my husband, it looked "pretty and magical and creepy." In other words, it was perfect. We're looking forward to enjoying it throughout the month, and in future years as well!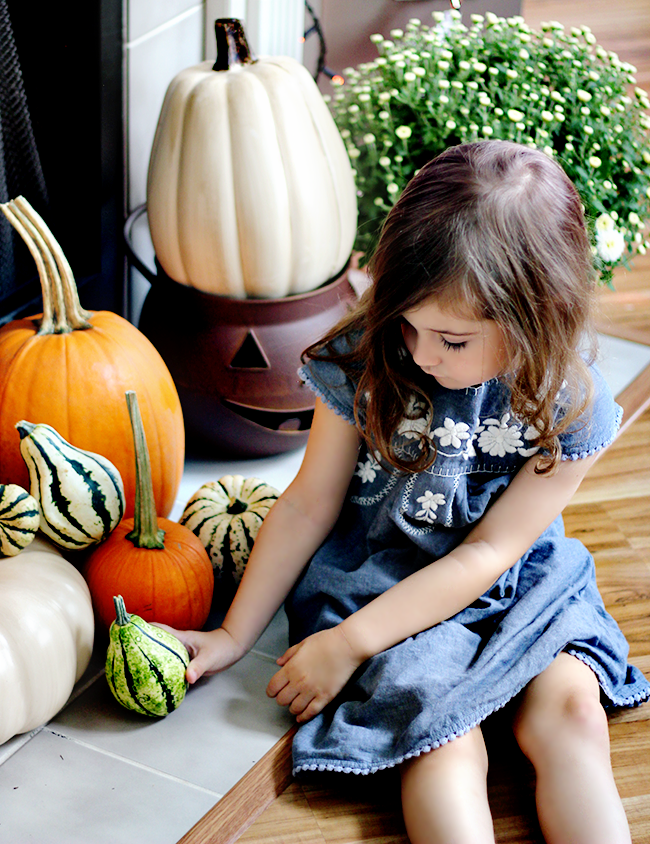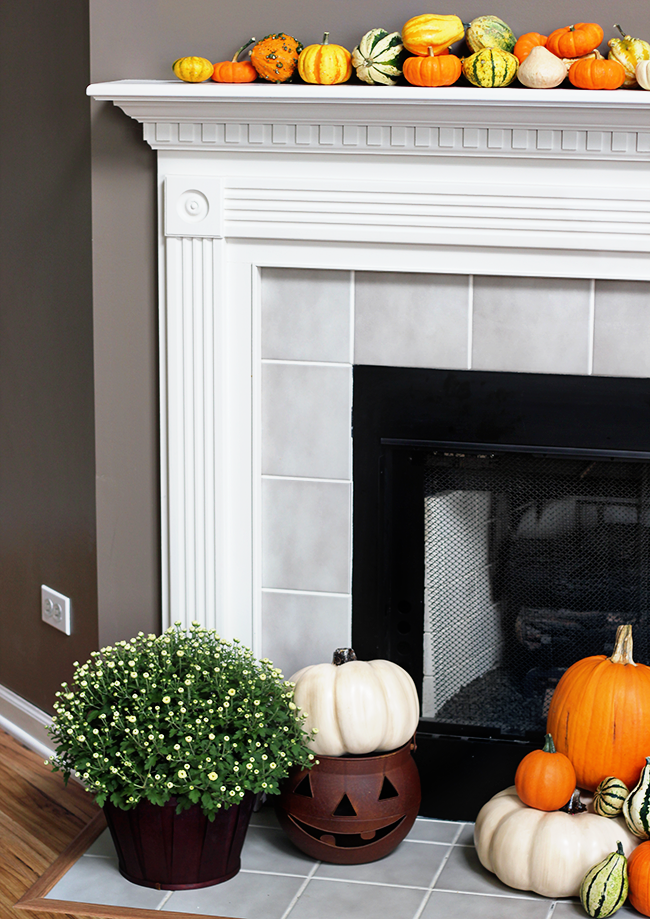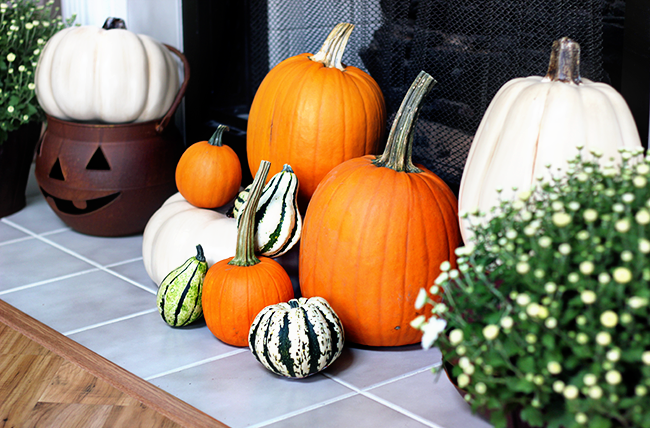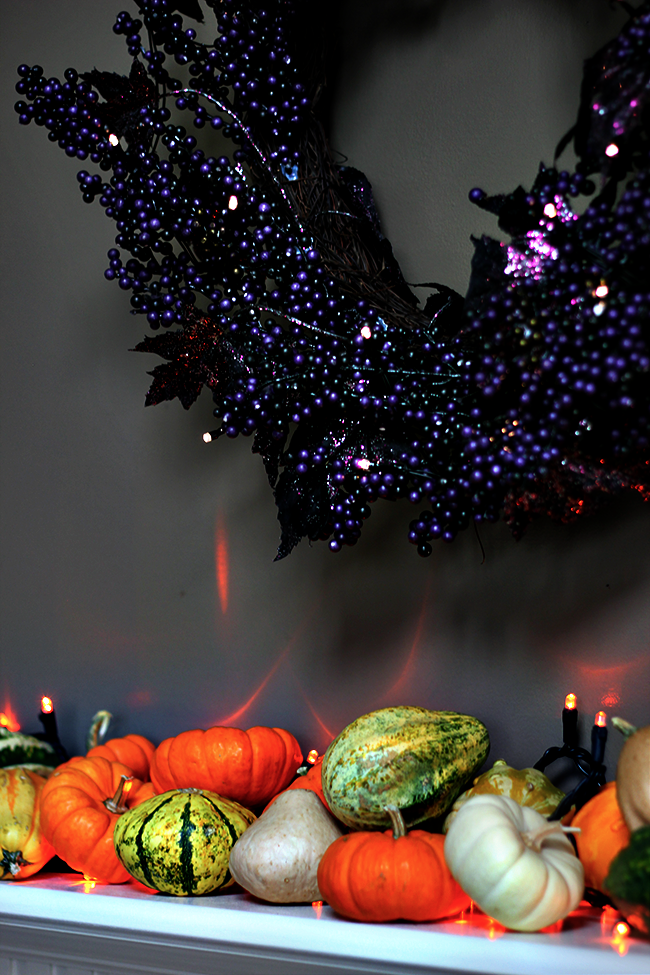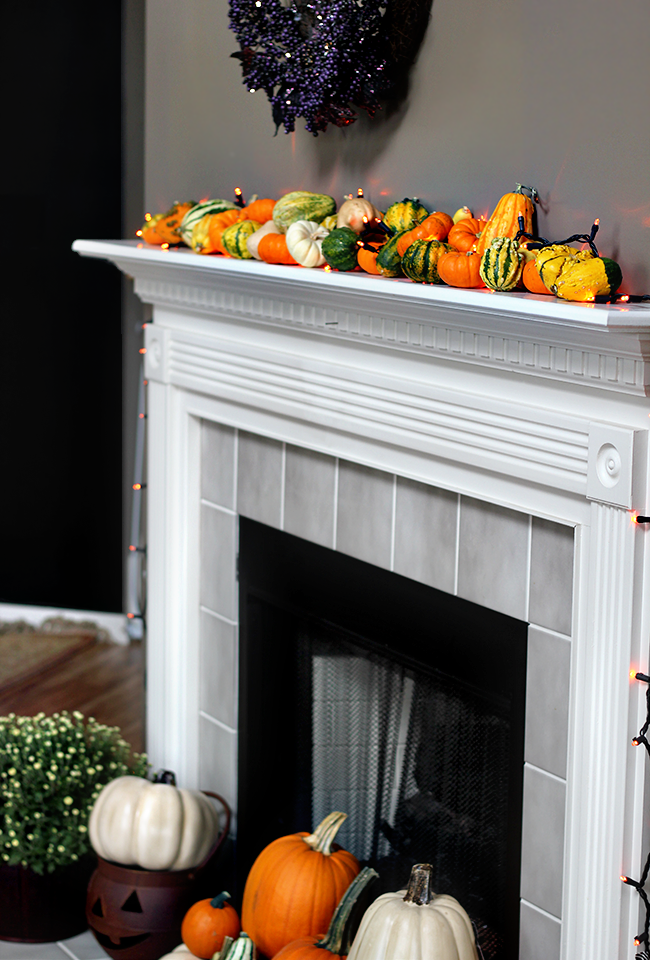 Have you decorated your mantel or fireplace for Halloween? What are your favorite things to decorate with this time of year?
ALSO FIND US HERE:
INSTAGRAM
//
FACEBOOK
//
TWITTER
//
PINTEREST
//
BLOGLOVIN'