Thank you Village Harvest for sponsoring this post. Every day Village Harvest is planting seeds of change and growing possibilities, one bag of goodness at a time.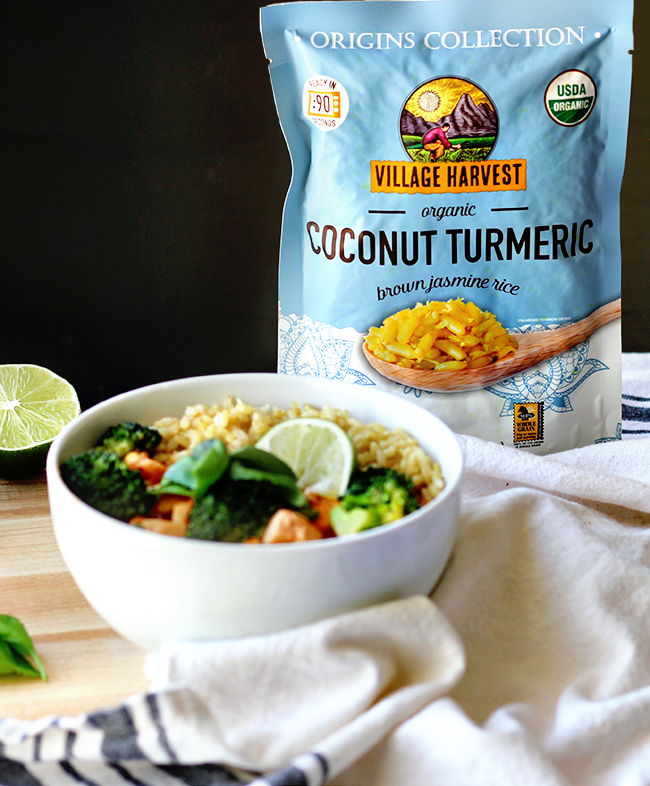 Pssst... You can shop the image above! Just hover over it and click.
There is little in this world I enjoy eating more than Thai food. (Okay, tacos too, but you've seen enough recipes here involving those.) And when it comes to Thai food, I almost always go for curries. (Side note: red curry was the first dinner I ever made for my now husband, almost 12 years ago. Awww.) Lucky for me, everyone in my family (even the 2 year old) loves Thai curry dishes too. Not so lucky for me, these dishes usually require quite a bit of time and ingredients to prepare. You guys know me - I do not enjoy extravagant, time consuming recipes. So sadly, red curry was, for a long time, something I only made on special occasions (and never on weeknights). Recently though, I found a way to make a truly delicious version of vegetarian Thai red curry that only requires a handful of ingredients and takes about 20 minutes to prepare. It's so easy and so good that it's become a regular weeknight dinner around here. If you like curry dishes, I think you'll love it as much as we do.
Easy Vegetarian Thai Red Curry
Serves 2-4
INGREDIENTS
1 cup
Village Harvest Origins Collection
Organic Coconut Tumeric Brown Jasmine Rice
package extra firm tofu, cubed*
1 can coconut milk
3 tablespoons Thai red curry paste
2 cups broccoli florets (you can also use cauliflower, or really any veggie you have on hand)
1 tablespoon brown sugar
2 teaspoons. garlic powder
lime (for juice)
basil (for topping)
salt
hot sauce or red pepper flakes (optional)
(I'll preface the instructions by saying that you can easily prepare your tofu right before you eat this, but I like doing it in advance. In fact, I usually buy a couple of packages, prepare them, and keep them covered in the fridge. Then when I make this red curry, I just throw them in the sauce which makes the entire dish take about 10 minutes to make.)
Begin by pressing the water out of the tofu block and cutting into cubes. (Or, if you really want to save time, buy it already cubed like I do.) Heat some coconut oil or olive oil in a large skillet (enough to coat the tofu without being too greasy) and pan fry the tofu over medium high heat until brown on all sides, adding a little salt as you go. Once tofu is read, either place into a bowl, cover, and refrigerate until you use it, or continue to the next step while the tofu is cooking. In a medium saucepan, bring coconut milk to a low simmer. Add red curry paste, brown sugar, and garlic powder and stir until combined. Add broccoli florets and tofu and simmer for about 8-10 minutes. While this is cooking, heat the Village Harvest Organic Coconut Tumeric Brown Jasmine Rice in the microwave for 90 seconds. Pour rice into bowls, top with curry sauce, squeeze a little lime on top each bowl and top with basil (or Thai basil). Enjoy!
This red curry is super simple and so fast to make, but incredibly delicious. And that's why it's truly the perfect quick weeknight meal to prepare for my family. Preparing the tofu in advance and keeping it in the fridge eliminates so much time for me, but the real time-saver is the Coconut Turmeric Brown Jasmine Rice from Village Harvest's new Origins Collection. This collection features authentic recipes from India and Thailand that can be served alone or prepared in endless ways, and that are all organic and non-GMO, 100% whole grain, and gluten free. And they're not just rice - they're recipes. So you can serve them alone as tasty side dishes, or as part of recipes like this one. Best of all, they're microwavable and ready in 90 seconds. (This is huge!) My favorite for curry dishes if the Coconut Tumeric (Thailand), but I genuinely love all of the other varieties they offer as well: Basmati & Lentil (India), Lemon Rice (India), Tikka Masala (India), and Thai Green Curry (Thailand). Village Harvest Origins is truly a smart and simple meal solution that you can bring to life in 90 seconds. If you're anything like me and love delicious Thai (and India!) dishes but don't have the time to prepare them on the regular, I highly suggest giving this collection a try. And let me know what you think.
Any other red (or yellow, or green - I love them all) curry fans out there? What's your favorite type of Thai food?
Thank you for supporting the brands that help make Bubby and Bean possible. I was selected for this opportunity as a member of CLEVER and the content and opinions expressed here are all my own.
ALSO FIND US HERE:
INSTAGRAM
//
FACEBOOK
//
TWITTER
//
PINTEREST