Thank you to the Chinet® brand for sponsoring this post.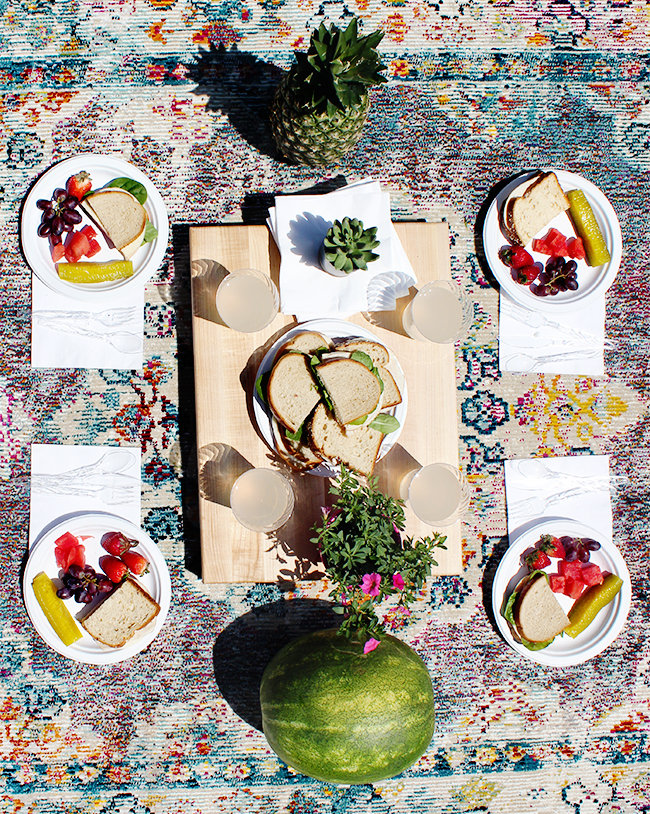 Click the Image Above to Shop!
For over a decade, we lived in a townhouse that didn't have a yard. So it made sense that as soon as we moved into our new house back in January, we began daydreaming of all of the wonderful ways we would take advantage of our backyard once the weather got warm. When it finally did, we immediately got to work, adding a patio, building a wood slat screen, planting, mowing the lawn, and preparing for the magic of summertime. I asked my daughter what she was most excited to do in our yard and on the patio, and without a second though she replied, "have a pretty picnic." I thought that sounded like a fantastic idea myself, so a pretty picnic we had. Since then, we've have several more. And they've been really, really great.
Backyard picnics take the act of eating outside up a notch; if you have kids, they feel like fun adventures for them. They're also much easier than having to haul a bunch of picnic gear to a park or picnic spot. And if you have the right supplies on hand (i.e. picnic food, simple decor, Chinet® Classic White™plates, etc.), they can be fairly spontaneous. It's also quite easy to make a backyard picnic look lovely by incorporating pieces of your home that you wouldn't normally take with you when having a picnic somewhere else. We've been enjoying our patio picnics so much that I thought I'd share some of my tips with you today on how to keep them simple (but also make them pretty), and hopefully inspire you to have one of your own!
1. Serve summertime foods you have on hand.
I like to make a variety of simple sandwiches and pair them with whatever fruits we already have, especially summertime fruits like strawberries and watermelon. Sometimes we'll use leftovers from dinner the night before and add some fresh fruit and dill pickle spears to keep things feeling summery. There are no rules for what foods to serve, but to keep things simple and easy, I like to use things we already have in the fridge.
2. Use decor you have on hand.
Sometimes we'll grab a big blanket and set our picnic up in the grass with no decor at all, but my daughter (much like her mama) really enjoys incorporating pretty elements into things, so we tend to use the patio where there's more solid/even ground. We usually set things up on a rug on our patio, use a big wood cutting board as a mini centerpiece table, and decorate with flowers and a plant or two. Grabbing decor items you already have is a quick way to create ambience for your picnic without spending time or money.
3. Get the kids involved.
My daughter absolutely loves helping prepare food for picnics and setting everything up in the backyard or on the patio. When we do it together, it only takes a few minutes, and it makes the whole experience so much more fun. (Disclaimer: This can actually make things more difficult if you have a two year old. Mark my words, friends. I now know this from experience.)
4. Use a basket as a carry-all.
No fancy picnic basket necessary! I just use a big basket we have in our living room to carry everything outside at once, rather than taking extra time to carry things out one at a time. It makes putting everything away afterward quicker and easier as well.
5. Keep the tableware simple and pretty with Chinet Classic White plates.
When it comes to picnic plates, bowls, napkins, cups, and utensils, my go-to is products from the Chinet® brand. Not only do Chinet Classic White plates look nice (give me a bright white any day!), they are incredibly convenient (no mess to clean up afterward!) and have all sorts of other amazing attributes that make them perfect for summertime backyard picnics. First of all, using eco-friendly, compostable products is important to me. Chinet Classic White plates are made from 100% recycled material that can be composted after use. They are also allergen-free and BPA-free. When you have young kids who are experts at messes during meals, a thick and sturdy design is a must. Chinet Classic White products offer premium strength so you don't have to worry about spills and leaks. Thank goodness. (
Click here
to learn more about the Chinet brand products for your summertime picnics and other entertaining needs.)
If you're looking for an easy, fun, quintessentially summertime activity, I highly recommend the backyard picnic. And if you have one, I hope these tips prove useful. I'm sure you'll be seeing lots more patio picnics from us throughout the summer!
Thank you for supporting the brands that help make Bubby and Bean possible. I was selected for this opportunity as a member of CLEVER and the content and opinions expressed here are all my own. Chinet® and Classic White™ are registered trademarks of Huhtamaki, Inc. in the U.S. and other countries.
ALSO FIND US HERE:
INSTAGRAM
//
FACEBOOK
//
TWITTER
//
PINTEREST