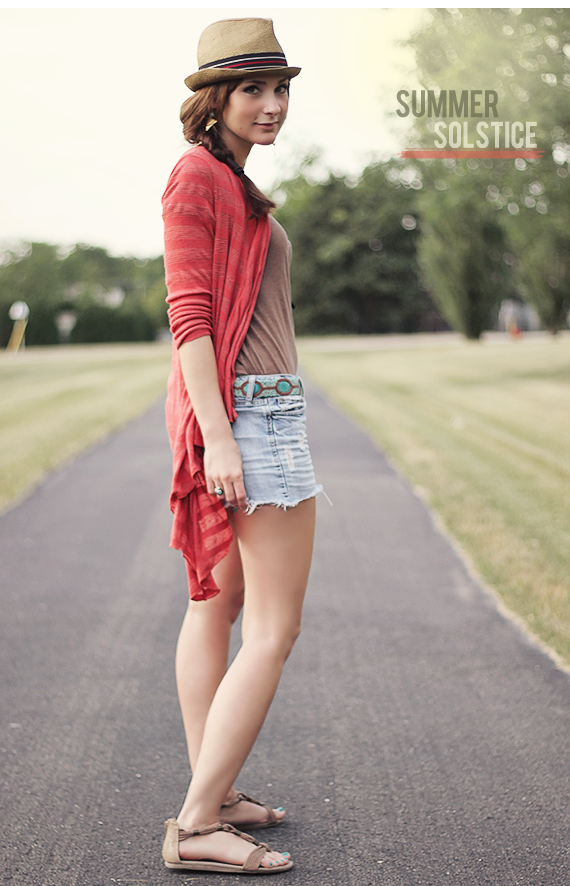 Those of you who read this blog regularly most likely know by now that I am a summer girl through and through. I would estimate that a good 75% of my wardrobe consists of spring and summer clothing, which is actually a little ridiculous considering that I live in a city with one of the coldest winters in the country. I can't help it though. My absolute favorite things to wear are meant for warm weather: sundresses and maxi skirts, shorts and v-neck tees, lightweight cover-ups and sandals. I love how summer clothes are laid back, comfy, and made for layering. I love how summer clothes can easily go from day to night looks. I love how summer clothes instantly evoke memories of bonfires with friends and coffee dates on patios and dancing barefoot to live music under the stars and leisurely sitting outside with the sun on my face and not a care in the freaking world. Summer clothes win.
And since I'm rambling on about summer, I might as well mention that it (summer, that is) officially arrives in two days. I'm even going to go as far as to title this my summer solstice outfit, because this particular type of look is a summertime staple for me. I wear a lot of dresses this time of year, but the rest of the time you can find me in cut-off denim shorts, solid tees, and lots of accessories. Accessories may even be the best part of summer dressing for me. The most understated outfit can become a whole new look when you pile on loads of bracelets, add some great earrings and necklaces, and throw on a hat over messy hair.
Last week, I got a package in the mail from my dear friend
Laura
that contained these stunning
earrings
from her shop,
Roots and Feathers
. I was thrilled when I opened it and saw them, and decided that they were going to be my official earrings of summer 2012. Everything about them screams summer to me: the sunny gold metals, the bold turquoise beads, the earthy arrows and geometric triangles. They are the exact type of accessory that I love to pair with simple outfits like this one when I want to dress them up. Laura's work is just so incredible, and every time I get a new piece of her jewelry, I have a new favorite.
Another new summertime essential of mine is this seriously incredible pair of twisted rope sandals from
Blowfish
. I'm not kidding you guys - they really are incredible. They're called the
Bria Sandals
, and they're crazy comfortable and look amazing with everything. I've been wearing them pretty much incessantly with everything from maxi dresses to tees/shorts to summery floral shift dresses. They're so versatile and well-made that I have a feeling they're going to be my daily shoe partner-in-crime over the next few months.
Like I said earlier, I'm all about layering and piling on the accessories with my summertime looks, and this outfit was certainly no exception. While my summer accessory obsession might be a little excessive for some, it's the best part of getting dressed for me. I spent the whole day working in this tee and cut-offs. When it was time to go grab dinner, all I had to do was throw on the hat (which belongs to my husband) and the red cover up for a little color, and add a beaded belt, some jewelry, and my sandals. Suddenly a bland + boring around-the-house outfit was transformed. And even though it may sound like I spent an awful lot of time planning this outfit (at least if you go by the way I'm dissecting it here), it was effortless. That's the rad thing about summer. It's a time when everything slows down a bit, you don't have to try as hard, and things just seem to fall into place. And oh yeah, summer is fun. For me, it's the most wonderful time of the year. With the most wonderful clothes of the year.
Earrings: c/o
Roots & Feathers
// Sandals: c/o
Blowfish
// Hat: my husband's
Shorts: cut off from thrifted jeans // Tee: Target // Cover-Up: F21 // Belt: c/o
Betty Belts
Bracelets: handmade + gifts // Necklaces: my sister's + gift
"And so with the sunshine and the great bursts of leaves growing on the trees, just as things grow in fast movies, I had that familiar conviction that life was beginning over again with the summer."
- F. Scott Fitzgerald, The Great Gatsby
Happy summer friends!