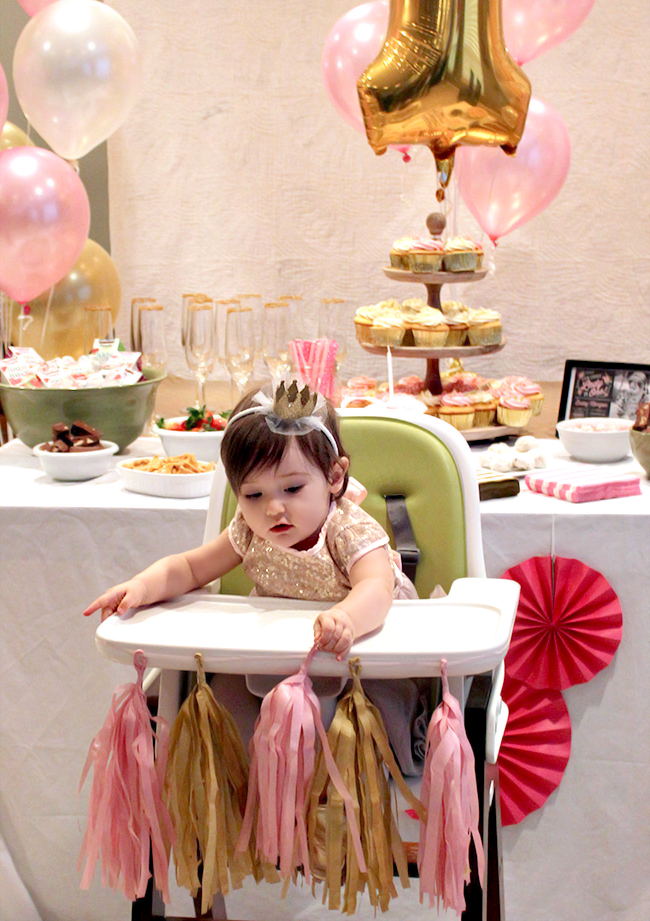 I usually shy away from putting together roundups of my favorite posts, because I don't want to bombard you guys with repeats of content you've already seen. But I really enjoyed taking a look back at the end of last year, and decided last minute to do it again. 2015 was my favorite year so far for this blog (which is now five years old!) in terms of content. I was able to work with so many truly great brands, was lucky to have such incredible contributors, and just genuinely had fun working on posts. I hope you enjoy this peek back through my top posts of the year (and that some of them might even be new to you!).
Starting with the top image: In early January, I shared some details of
Essley's first birthday party
, which coincidentally ended up being our most viewed (and pinned) post of 2015. (Her birthday party this time was infinitely more laid back, as can be seen in
this grainy phone photo
.)
I also shared some thoughts on
my big goals for the year
in January, which included slowing down, staying positive, and enjoying life. (For the most part, I think I did a pretty good job of following through with these goals, which happen to be the same for 2016.)
In February, I talked about the
five greatest lessons that I learned in my first year as a parent
. With a new baby arriving any day now, this was a good post for me to revisit.
Also in February, I shared a list of
Essley's favorite books
. Most of these continue to be her favorites!
I teamed up with Rescue Remedy in March to talk about
my top ten stress relievers
.
April started out with a post documenting
our 2015 trip to Arizona
. I'm already looking forward to going back in a few months. The southwest is magical, man.
Also in April, I teamed up with
Kohl's
to do a
Festival What to Wear photo shoot
for Coachella. (This was my last outfit post before getting pregnant!)
I teamed up with TIKI in May to share some tips for creating a
DIY backyard summer gathering
on a budget. Summer feels so far away right now, but I can't wait to host more of these this year.
At the end of May, I shared our
updated bedroom dresser space
(which is currently covered with a diaper changing station for the new babe and a pile of other miscellaneous baby stuff - oops.)
I got personal in June and talked about
my breastfeeding journey
- the joys, the judgment, and where we ended up.
And on the last day of June, I shared the news that we were
expecting another baby
! (That seems like so long ago! I feel like I've been pregnant forever you guys.)
Continuing with baby news, at the end of July I
announced that we were having a little boy
. One of each!
In August I teamed up with Splender and Sephora to share
what's in my makeup bag
. (I'd never done a 'What's in My Bag' post before - it was fun!)
Also in August, Essley and I did our first ever outfit post together, sharing our
favorite denim looks
for early fall.
And in yet another post from August, I shared some bits and pieces from our
northern California vacation
. (I wish I could go back right now.)
September brought my last
outfit post of the year
. (This was mainly due to the majority of my clothes ceasing to fit soon after. Man does my baby belly look bigger than that now!)
In October, our Food + Drink Contributor
Sara
shared the most delicious
pumpkin bread recipe
made with coconut milk. It quickly became my favorite fall snack.
I teamed up with my pals at
Elegant Baby
in early November to talk about
getting ready for baby #2
, and how (unlike with baby #1) this time has been about the little things.
Also in November, our Lifestyle Contributor
Jen
shared this rad post on
how to propagate succulents
and make cool DIY succulent gifts.
And at the end of November, I shared
two of my mimosa recipes
(one clementine and one apple cider) that I served throughout the holiday season (and can't wait to drink myself any day now!).
In December, I teamed up with
Crate and Barrel
to design a
holiday entertaining table design
. This was in my top few favorite posts ever. I had so much fun with the project, and I ended up using the same table design for several gatherings I hosted during the holiday season.
A few weeks after sharing my holiday mimosa recipes, I shared my non-alcoholic version of that holiday beverage treat with this
clementine mimosa mocktail recipe
, for one of my final posts of the year.
Truth be told, there were about a dozen other posts I initially had included in this round-up, and then I realized things were getting a little out of hand. (There are already twenty-two here as it is. Yikes.) I hope you've enjoyed this recap! I'm really excited to see what 2016 brings around here.
ALSO FIND US HERE:
BLOGLOVIN'
//
INSTAGRAM
//
FACEBOOK
//
TWITTER
//
PINTEREST